(from left) M3GAN and Cady (Violet McGraw) in M3GAN, directed by Gerard Johnstone.
Fast facts
The lobby of the Toy Company was filmed on campus at the Auckland University of Technology
Gemma's house was filmed in Sunnyhills, an eastern suburb of Auckland
Blumhouse feature M3GAN blends horror and sci-fi telling the story of toy-company roboticist Gemma played by Allison Williams (Get Out) who programs a life-like doll to be her orphaned niece's companion.
Produced by Jason Blum and James Wan, M3GAN is directed by award-winning New Zealand filmmaker Gerard Johnstone (Housebound), from a screenplay by Akela Cooper (Malignant, The Nun 2) based on a story by Akela Cooper and James Wan and line-produced by New Zealander Jill Soper.
New Zealand actress/dancer Amie Donald (Sweet Tooth) plays the role of the robotic M3GAN doll. Other New Zealanders starring in M3GAN include Stephane Garneau-Monten (Straight Forward) as Kurt, David's yes-man assistant, Lori Dungey (The Lord of the Rings: The Fellowship of the Ring, extended edition) as Gemma's not-so-friendly next-door neighbour, Arlo Green (Rūrangi) as Ryan, and Michael Saccente (The Brokenwood Mysteries: Season VII) as Greg.
Key New Zealand creatives were DOPs Peter McCaffrey (second unit DOP Cowboy Bebop), Simon Raby (Mortal Engines), production designer Kim Sinclair (Academy Award®-winning supervising art director of Avatar) and costume designer Daniel Cruden (assistant costume designer, Avatar: The Way of Water).
Blum and Wan brought on New Zealander Gerard Johnstone to helm, inspired by his directing of the 2014 horror comedy Housebound. "M3GAN has a specific tone that can be hard to achieve," Blum says. "I loved Gerard's first movie, Housebound. It was a fine balance between capturing the brooding dread of a haunted-house story and bringing in a quirky sense of humor. For M3GAN, the idea of a robot friend that turns into a killer doll is terrifying, but there's a dark humor simmering just below the surface. If you have a director that doesn't embrace that, the movie will never work, and Gerard understands that in an effortless way."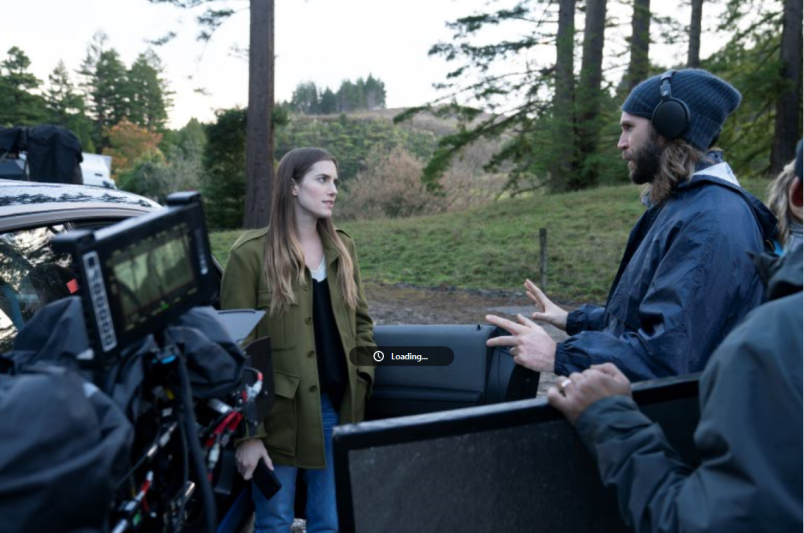 (from left) Allison Williams and director Gerard Johnstone on the set of M3GAN.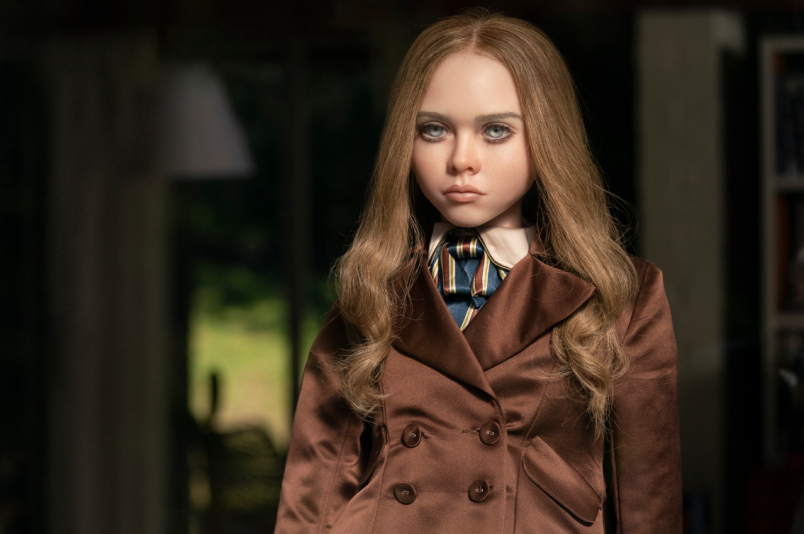 M3GAN in M3GAN directed by Gerard Johnstone.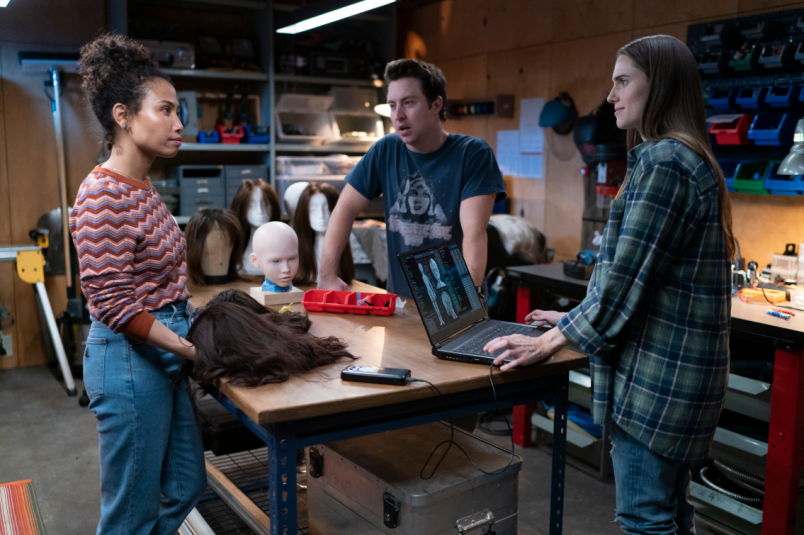 (from left) Tess (Jen Van Epps), Cole (Brian Jordan Alvarez) and Gemma (Allison Williams) in M3GAN, directed by Gerard Johnstone.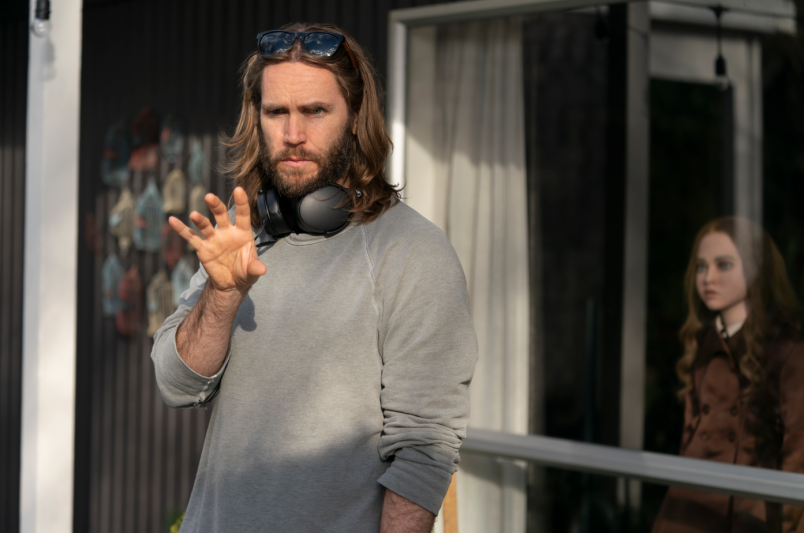 Director Gerard Johnstone on the set of M3GAN.
Previous
Next
THE CREATION OF M3GAN
Creating the Model 3 Generative Android – M3GAN, for short – required collaboration across multiple teams from multiple disciplines, including the human actor, VFX, animatronics and puppetry. All had to work in concert to create the state-of-the-art, one-of-a-kind new horror icon.
When Johnstone and Wan were workshopping M3GAN, they agreed that first and foremost, she should feel like a toy that comes to life. Wan says, "After much back-and-forth design work and discussion with Gerard, we ended up leaning into making M3GAN more physically realistic. It's the rare occasion where an 'uncanny valley' look actually adds to M3GAN's creepiness."
The talented New Zealand team tasked with bringing the character to life included visual effects supervisors Rhys Dippie (The Luminaries) and Damon Duncan (The Luminaries); art lead and senior concept artist Jeremy Hanna (Dune) and team; Wētā Workshop's SPFX supervisor Talei Searell (Dune) and SPFX production manager Rita Maxim (Blade Runner 2049); stunt coordinator Isaac "Ike" Hamon (Black Adam) and team; the SFX hair and makeup team at Morot FX Studios; makeup and hair design's Stefan Knight (A Wrinkle in Time) and team; movement coaches Luke Hawker (I Am Mother) and Jed Brophy (The Lord of the Rings: The Rings of Power); dance instructor Kylie Norris; and young dance performer Donald.
They worked alongside the international team, which included supervising puppeteer Adrien Morot (X-Men: Days of Future Past); puppet lead Kathy Tse (Slender Man), animatronic technician Devin Seaman (Beast of the Water) and VFX producer Melissa Brockman (They/Them).
Wan, who has experience working with non-human central characters, admits Johnstone and his collaborators exceeded all expectations with M3GAN. "Gerard did an amazing job infusing her with so much life. She stands out as a character, and she's not human. I was so happy to see how he was able to do that in a way where she is endearing and charming one moment…then the next menacing and darkly dangerous. That's a testament to Gerard and his approach to filmmaking."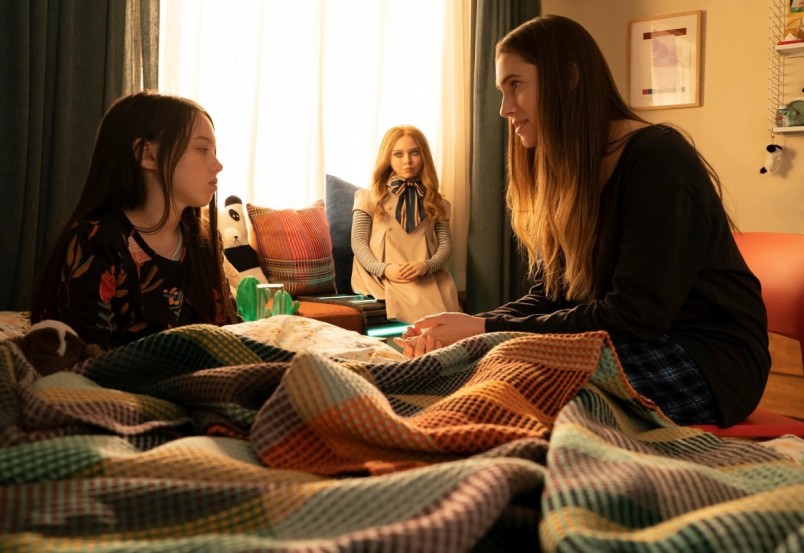 (from left) Cady (Violet McGraw), M3GAN and Gemma (Allison Williams) in M3GAN, directed by Gerard Johnstone.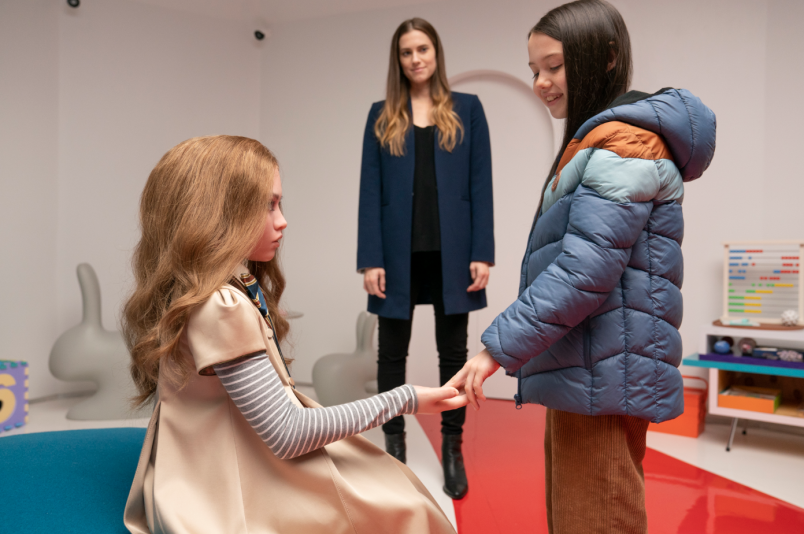 (from left) M3GAN, Gemma (Allison Williams) and Cady (Violet McGraw) in M3GAN, directed by Gerard Johnstone.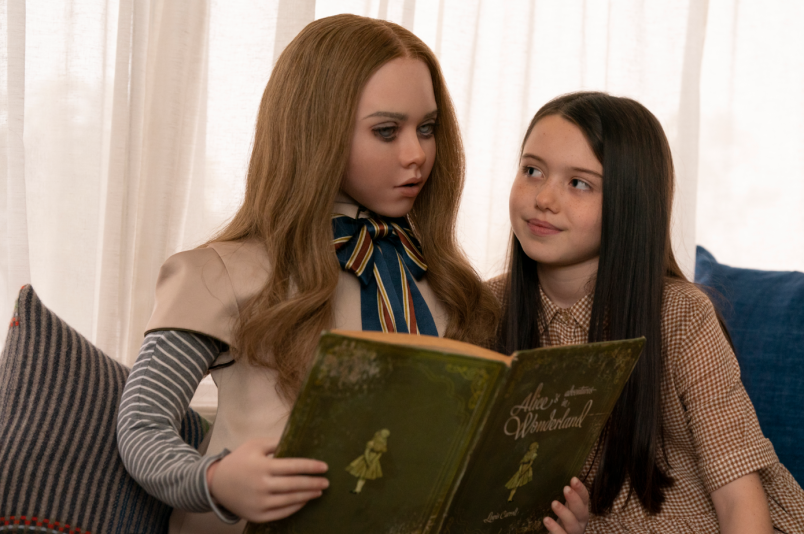 (from left) M3GAN and Cady (Violet McGraw) in M3GAN, directed by Gerard Johnstone.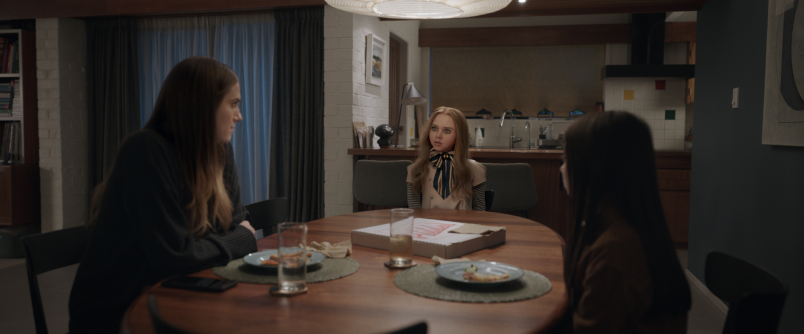 (from left) Gemma (Allison Williams), M3GAN and Cady (Violet McGraw) in M3GAN, directed by Gerard Johnstone.
Previous
Next
Johnstone wanted to cast a human actor to embody M3GAN in the long and wide shots but thought that finding a child actor, of the same physical size as Cady (Violet McGraw), who could do what the role required might be an impossible ask. "I didn't think we'd find anyone who could do what was required, which was to move like a robot, dance, fight and act four-to-five-page dialogue scenes toe-to-toe with our leads," Johnstone says. "It took all of us by surprise when our New Zealand casting director Miranda Rivers found Amie Donald straight off the bat".
Movement coach Hawker and stunt coordinator Hamon worked closely with Donald and were nothing but impressed. "Many major stunts they thought they'd need rigging for, Amie could do with a few minutes practice," Johnstone says. "She was a miracle find, and it's not an exaggeration to say that there would be no M3GAN without her. To top it all off, she could not have been sweeter—and yet, she still loved doing the creepy, stabby stuff the most."
From scenes in which M3GAN chases Cady's bully, Brandon, through the forest to more intimate moments with Cady, it was crucial to blend seamlessly the animatronic M3GAN and the physical performance of Donald. A brilliant team of puppeteers handled M3GAN's facial expressions and dialogue. In longer shots, Donald wore a prosthetic face that would later be animated. "For a lot of close-ups, we wanted to keep M3GAN feeling like an animatronic doll," Wan says. "We had a company called Morot that gave us a lifelike version of M3GAN for her close-up shots. It's a combination of techniques and methods that brought her to life very successfully."
A pivotal scene in the film also became an instant meme (and later a Tiktok sensation) when the film's first trailer debuted: a contortionist dance scene in the hallway where M3GAN stalks her prey. Johnstone worked closely with movement coach Brophy and dance instructor Norris to bring it to the screen. "It was a very entertaining scene to work through in so many ways," Hamon says. "Amie is such a gifted physical performer, and we found a way to take it from a very quirky, innocent moment to terror. This dance was supposed to throw her victim off quite a bit. It goes extremely violent very quickly…going from serene to full horror."

About the New Zealand Screen Production Grant
M3GAN utilised the New Zealand Screen Production Grant – (International grant)
International Productions are eligible for a cash grant of 20% of Qualifying New Zealand Production Expenditure (QNZPE) with a 5% Uplift available for a smaller number of productions that are invited to apply and can demonstrate significant additional economic benefits to New Zealand.
PDV Productions can access a grant of 20% of QNZPE up to QNZPE of $25 million, and 18% of QNZPE for QNZPE above $25 million. Full details can be found here.
Synopsis:
From the most prolific minds in horror—James Wan, the filmmaker behind the Saw, Insidious and The Conjuring franchises, and Blumhouse, the producer of the Halloween films, The Black Phone and The Invisible Man—comes a fresh new face in terror. M3GAN is a marvel of artificial intelligence, a life-like doll programmed to be a child's greatest companion and a parent's greatest ally. Designed by brilliant toy-company roboticist Gemma (Get Out's Allison Williams), M3GAN can listen and watch and learn as she becomes friend and teacher, playmate and protector, for the child she is bonded to.
When Gemma suddenly becomes the caretaker of her orphaned 8-year-old niece, Cady (Violet McGraw, The Haunting of Hill House), Gemma's unsure and unprepared to be a parent. Under intense pressure at work, Gemma decides to pair her M3GAN prototype with Cady in an attempt to resolve both problems—a decision that will have unimaginable consequences.
M3GAN released in New Zealand January 12 2023.