"It's terrific to see that physical effects are alive and well in filmmaking. By combining artistry with technology, our crew were able to push the limits of their capabilities to design and build this incredible specialty costume."
The design of the suit took roughly 1 year.
Manufacture took 16 weeks (3D, prototyping and build).
The suit is made up of over 300 separate pieces.
Weta Workshop Project Supervisor Luke Hawker ended up playing 'Mother' for the film.
In an overall sense it was brilliant to have the prospect of the New Zealand Government's PDV Grant in our planning. We were a little film dreaming big and this contribution allowed us to push the envelope a little closer towards excellence.
Screen Incentives
Where Principal Photography occurs outside New Zealand, physical effects work carried out in New Zealand can qualify for the Post, Digital and Visual Effects (PDV) Grant - part of the Government's screen incentives scheme, the New Zealand Screen Production Grant (NZSPG). The PDV Grant offers a cash rebate of 20% of Qualifying New Zealand Production Expenditure (QNZPE) up NZ$25million and thereafter 18% of QNZPE above NZ$25million. The PDV Grant is available to all qualifying formats with a minimum QNZPE spend of NZ$500,000.
Under the NZSPG, physical effects work includes:
Specialist prosthetics, models, props and costumes primarily used as on-set visual effects aids
Specialist prosthetics, models, props and costumes which are scanned or photographed to be used as reference for digital creatures, doubles, environments and other digital effects
More information on PDV Activity can be found in Appendix 2 of the NZSPG Criteria.
For more information on the NZSPG, click here.
Weta Workshop
Weta Workshop is a five-time Academy Award-winning design studio and physical manufacturing facility. The facility is part of the greater Wellington-based creative community of Weta Digital, Park Road Post, and Stone Street Studios, which are all based within a few minutes of each other.

The team at Weta Workshop work on projects from the earliest stages of creative design through to manufacture and final distribution. Drawing on more than 27 years of filmmaking experience, five-times Oscar-winning Design and Effects Supervisor Richard Taylor is intimately involved in all projects from concept through to delivery. Weta Workshop has a creative portfolio that spans a large number of blockbuster movies and gaming properties including The Lord of the Rings and The Hobbit trilogies, King Kong, The Chronicles of Narnia, Avatar, District 9, The Amazing Spider-Man 2, Godzilla, and I Am Mother.
The design process
Based under one roof on Wellington's Miramar Peninsula, Weta Workshop's design and manufacture teams combined their creative thinking to create a complex specialty suit for the robot character 'Mother'.
Rather than a static prop, dummy, or CGI creation, 'Mother' needed to function as a fully articulating and emotive character. With the actor driving from inside a suit, the robot needed to perform.
Senior concept artist Christian Pearce was tasked with imagining what 'Mother' might look like. The designer experimented with the robot's form through 2D design, playing with the extremes of proportion and silhouette. The challenge lay in hiding a human inside a rigid robotic structure. From the length of limbs to the choice of materials, every decision would depend on the person inside the suit.
Grant (Sputore) was open to us being experimental and trying some really original shapes and forms, so the first dozen designs were quite out there. Quite quickly we realised that we wanted the Mother character to be relatable and stick relatively close to the human form.
Project Supervisor becomes actor
As the design neared its final form, Weta Workshop Project Supervisor Luke Hawker and Production Manager Kathryn Jackson joined the project to prepare the robot for manufacture.
Encouraged by the production to audition, Project Supervisor Luke Hawker who is also an experienced actor of 18 years landed the role. This, says Kathryn, was "a luxury." Not only was the performer present for every step; he was leading the project, too.
The design was modified to match Luke Hawker's proportions and the manufacture of 'Mother' began.
The build
We had to lose the human silhouette as much as possible; but Mother still had to move and emote. The challenge was trying to work out how a person performs inside something that is meant to hide his limbs and joints.
To begin the build, costume technician Bryce Curtis developed a physical prototype from black foam, sculpted around the performer. This was then 3D scanned and modelled by the Workshop's 3D team, led by 3D technicians Joel Savage and Ryan Serrano, and the elements were sent to the workshop floor to be fabricated.
With nearly 300 components designed to Luke's precise measurements, fabricating Mother was like crafting, constructing, and assembling an elaborate puzzle.
Components were made by various materials and techniques; moulded and cast, model-made, or 3D printed. From semi-flexible urethane and sintered nylon to cold cast resins and laser-cut plastics, each material was chosen for its balance between durability, comfort, movement, and aesthetic.
Mother is a pretty technologically dense character – there's a lot happening in her, lots of new techniques that we hadn't done before.
Elements such as the robot's aluminium frame were laser-cut and shaped around the body like a roll cage; others were 3D printed and built directly into the suit. Mother's hands were worn like gloves but designed like exoskeletons; 3D printed in sintered titanium, complete with sliding elements and grooves to allow movement.
As the build progressed, animatronics supervisor Zoilo Abad worked with technician Rod Sheehy to install more than 700 LED lights and animatronics into the suit to bring 'Mother' to life. It was an absolute privilege to team up with the legendary Weta Workshop to design and build the titular robot 'Mother'. The execution of this character was crucial to pulling off the story so the director, Grant Sputore, began the collaborative process of design a year out from the start of shoot. It was a constantly evolving process with Christian Pearse and team. Some developments in this process even informed story beats. We would regularly visit the Weta Workshop studios for updates throughout the build process and it was always so energising to sense the great combination of experimentation and professionalism. When it came to the shoot, the onset team headed up by robot suit performer, Luke Hawker, were simply extraordinary. They brought Mother to life in a way that made her/it so real for our young actress playing opposite (in fact for all onset crew).
'Mother' comes to life on set
During the shoot technician Tim Domett operated the componentry as On Set Specialty Costume Supervisor. While Luke was in front of the camera, Tim was behind it, puppeteering Mother's facial expressions; a complex choreography designed in collaboration with the director.
With Luke and Tim working together, and Zoilo on hand for his technical expertise, the robot's features came alive. "You could see there was a character in there." Luke Hawker, Project Supervisor, Weta Workshop.
The result was a unique specialty costume that was unlike anything the Weta Workshop crew had made before.
We could feel Grant was making something special, so we were able to push ourselves. The whole team worked together to make it something really amazing.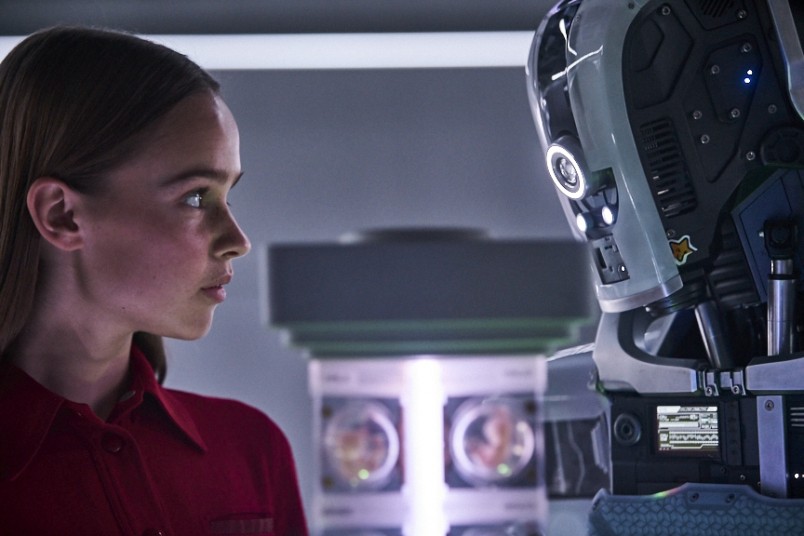 Clara Rugaard "DAUGHTER" and Luke Hawker "MOTHER" look at embryo bank
© Ian Routledge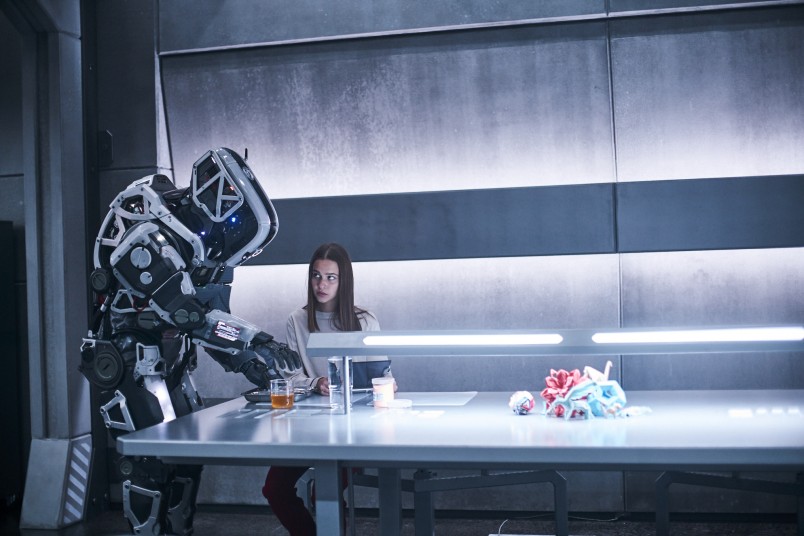 Clara Rugaard "DAUGHTER" and Luke Hawker "MOTHER" in kitchen
© Ian Routledge
Clara Rugaard "DAUGHTER" and Luke Hawker "MOTHER" in lab, fixing Mother's hand
© Ian Routledge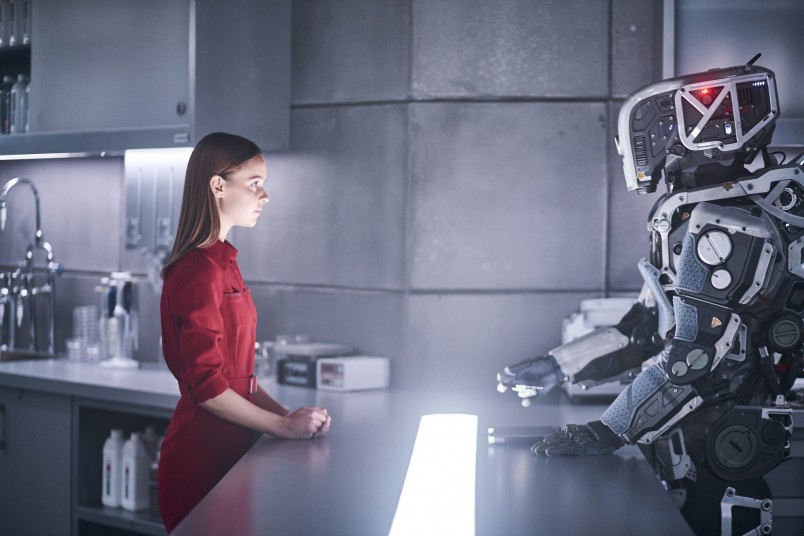 Luke Hawker "MOTHER" and Clara Rugaard "DAUGHTER" in lab
© Ian Routledge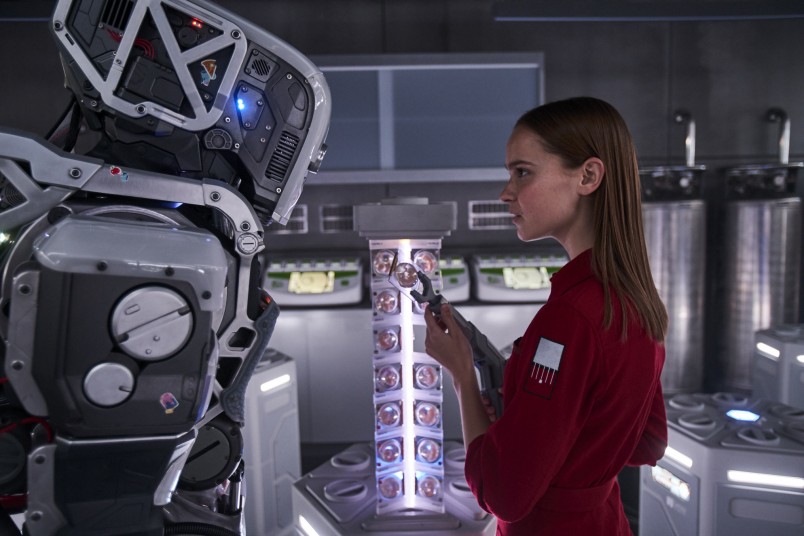 Clara Rugaard "DAUGHTER" and Luke Hawker "MOTHER" look at embryo bank
© Ian Routledge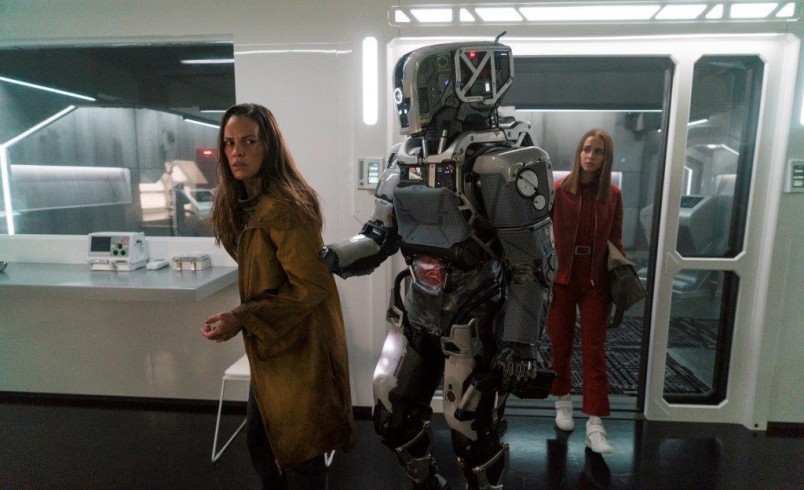 Luke Hawker "MOTHER", Clara Rugaard "DAUGHTER" and Hilary Swank "WOMAN" enter the infirmary
© Matt Nettheim
Previous
Next
We had a brilliant experience with New Zealand's boutique VFX company, Blockhead. Stefan Coory and his team were on set throughout the world building scenes that were shot on location just outside of Auckland. The film up until about the 75min mark takes place in an underground bunker. It was so crucial that the sense of a seamless world created inside the set would be matched by the scenes we shot on location. Blockhead did an amazing job and Stefan always brought a huge amount of enthusiasm, matched with pragmatism… essential on a low budget film!
About I Am Mother
I Am Mother is a sci-fi thriller about a teenage girl (Clara Rugaard), who is the first of a new generation of humans to be raised by Mother (Rose Byrne), a robot designed to repopulate the earth after the extinction of humankind. But the pair's unique relationship is threatened when an injured stranger (Hilary Swank) arrives with news that calls into question everything Daughter has been told about the outside world and her Mother's intentions.